MARDEX S.A. abrió sus puertas en 1987 exportando productos de pesca fresca y congelada al mercado Estado Unidense.  Años después ha expandido sus ventas a Europa con los mismos productos añadiendo productos de camarón y valor agregado. Estamos situados en la parte sur de la línea Ecuatorial en la costa oeste de Sudamérica, un área reconocida mundialmente por sus aguas limpias y pesca abundante. Nuestra planta está constantemente optimizando  sus recursos físicos y tecnológicos como parte de un plan de mejora que tiene como fin satisfacer las necesidades de nuestros clientes.
Hoy MARDEX S.A. trabaja bajo certificaciones BRC en conjunto con nuestro plan HACCP Certificado. En el mercado por más de 25 años y con el compromiso fiel de seguir mejorando para tener una planta moderna en todo momento que nos permita cumplir con las exigencias más rigurosas de nuestros clientes.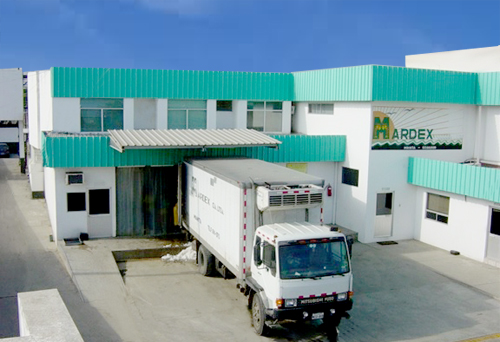 MARDEX S.A. initiated operations in 1987 exporting fresh and frozen fish products for the U.S. market. Several years later our sales expanded to Europe with the same commodities as well as value added products.
We are located just south of the Equator on the west coast of South America- an area known for its rich, clean waters.
Our state of the art facility is continuously being improved with the latest technology as part of our efforts to satisfy all of our client's needs. Today our plant works under BRC 6th edition certification and in compliance with a certified HAACP Plan.
With our modern facility and more than 20 years experience, we are able to tailor our production to meet the most demanding requirements of our clients.